Wrinkle Relaxers at
Green Apple Dental Clinic
Enhance Your Natural Beauty Today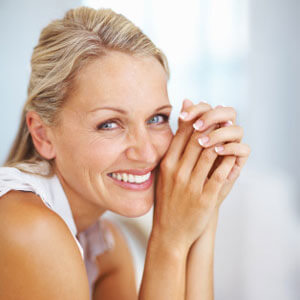 If the arrival of your birthday each year makes you more and more nervous about ageing, don't fret. Aside from our wide range of high-quality cosmetic dentistry, our experienced team also offer wrinkle relaxers to further enhance your appearance and give you the self-confidence you deserve.
Our well-loved cosmetic treatments performed by Dr Raia are safe, trusted, and straight-forward. Wrinkle relaxers are a popular procedure which smooth facial lines and reduce the signs of ageing to help you achieve a more radiant, youthful appearance.
Combat Common Issues
Our anti-wrinkle injections (also known as facial muscle relaxants) are ideal for helping patients control and combat a number of issues, including:
Crow's feet
Forehead lines
Frown lines
Migraines
Teeth grinding
Smoker's lines
Cheek slimming
Bunny lines
What Are Wrinkle Relaxers Made Of?
Our high-quality, trusted wrinkle relaxers contain purified protein, which is injected into the facial muscles in small amounts to cause temporary muscle weakening. Although the effect is long-lasting, it isn't permanent, so repeated treatments are recommended to increase the desired effects.
Frequently Asked Questions
Is the process painful?
Because anti-wrinkle injections are so small and only come into contact with the surface of the skin, they are a relatively pain-free and comfortable procedure. As a result, patients do not require sedation or local anaesthetic, and they'll find the process to be both quick and simple.
Dermal fillers, on the other hand, do require anesthetization of the area, as the process takes longer. Because our dentists are fully-trained in anaesthetic techniques, they will ensure the entire procedure is comfortable and as pain-free as possible for each patient.
How do I get started?
Simply schedule a consultation with Green Apple Dental Clinic to begin your treatment. During your appointment, our clinician can explain the options available and allow you to select which one is most appropriate for you.
Can I have the treatment straightaway?
After your initial consultation, we recommend taking time to process all of the information and options provided. Once you have chosen the option you are happy with, we can schedule an appointment for you to receive treatment as soon as possible.
How long does treatment take?
It conveniently takes as little as 5-10 minutes to completely treat areas around the forehead, eyes (crow's feet) or mouth (smile lines). You should start to see results from your anti-wrinkle injection treatment within the first 4-10 days.
What are some of the possible side effects?
The possible side effects of this treatment are similar to those that any injection can cause, including minimal discomfort, tenderness, bruising, swelling, inflammation, or redness. Other more serious, yet uncommon side effects can include pain, headaches, complications to eyesight, or dizziness. Our highly-experienced clinician will explain all of the possible side effects in detail with you prior to the procedure. Because the treatment rarely leaves any visible marks, many patients return to their daily activities (including work) straight away.
How long will my treatment results last?
Results will vary from patient to patient, however most find their desired effects last up to six months. After your initial treatment, we recommend following a preventative schedule to help extend the length of your results, otherwise they may gradually wear away over time. Because anti-wrinkle injections are a cumulative treatment, the results of your following procedures will tend to last longer.
Contact Us Today
If you're interested in addressing any of the concerns mentioned above, schedule a complimentary wrinkle relaxer consultation with our friendly team today! Our experts will discuss our treatment options, as well as which procedures will help you achieve the results you desire.
CONTACT US

Wrinkle Relaxers Brunswick VIC | (03) 9077 3807