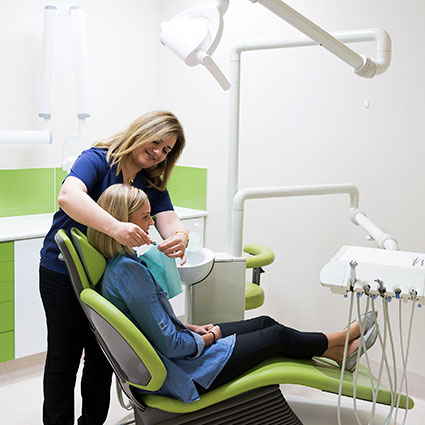 Dental Checkups in Brunswick
At Green Apple Dental Clinic, we believe that focusing on prevention, rather than cure, is the key to optimal oral health. Just as eating healthy foods, brushing and flossing regularly, and avoiding sugary foods are important to keeping your smile beautiful, so too is attending bi-yearly dental check-ups.
NEW PATIENTS

Putting Our Patients First
Keeping your teeth and mouth in excellent shape is as easy as attending six-monthly appointments with our friendly and professional team. We put each individual patient's needs first, striving to create long-term relationships built on trust and care. During your check-ups, we'll ensure you feel relaxed and at ease at all times. It's our commitment to provide you with the highest-quality dental care you'll love.
Comprehensive Check-ups and Hygiene Appointments
Your regular, six-monthly dental appointments at Green Apple Dental Clinic include:
A clean and scale
A full oral examination, including areas such as your teeth, gums, and both soft and hard tissues
Comprehensive oral cancer screening
A head and neck assessment
Oral hygiene advice
Want to Learn More?
Get in touch with Green Apple Dental Clinic today by calling or emailing us.
CONTACT US
*All photos, videos or images seen on our website, landing pages and social media are published with the consent of our patients. They are not guarantees that your results will be the same or similar, nor are they a guarantee of any particular outcome. Results, risks, potential complications and recovery vary for each individual patient. Our ads and page content are general and do not constitute medical advice. Before commencing your dental treatments, you should seek medical advice from an appropriately qualified health practitioner and seek a second opinion where appropriate. All the offers and prices are subject to availability and subject to change without any notice.

Dental Checkups Brunswick, East Brunswick, Brunswick West, Moonee Ponds VIC | (03) 9077 3807