Preventative Dentistry in Brunswick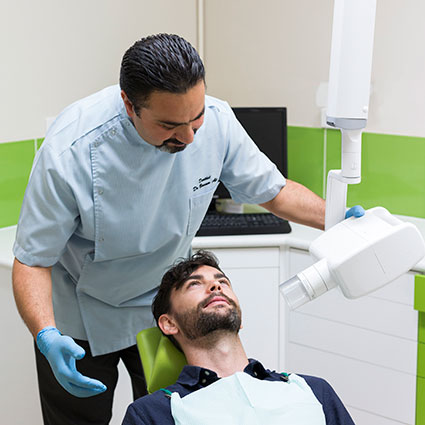 Proper at-home oral hygiene habits and regular dental cleanings are imperative to a healthy mouth for years to come. At Green Apple Dental Clinic, we proudly offer a variety of services to ensure our patients the healthiest, brightest of smiles.
Routine dental checkups as well as stringent daily brushing and flossing are the best ways to protect your teeth and gums from unwanted complications. Preventative visits with us include:
The evaluation of existing fillings and crowns
A check of the jaw joint
The examination of your bite
A thorough look at your gums
An oral cancer screening
Any necessary X-rays
Our practice is dedicated to helping you maintain optimal oral health. We are here to make sure your entire mouth is as healthy as can be!
NEW PATIENTS

A Brighter Smile
Regular appointments with us involve teeth scales to remove built-up plaque and tartar. The removal of this unwanted buildup can help prevent gum disease and other dental problems. Additionally, your dental checkup include teeth polishes to leave your teeth with a shiny finish. You can also expect a brief review of appropriate brushing and flossing techniques at the conclusion of your visit.
We want to hear from you. Be sure to express your questions and concerns while under our care. Our practice is glad to work with you to help you reach your smile goals!
Suggested Frequency of Checkups
Green Apple Dental Clinic recommends two dental checkups per year to keep your smile in tip-top shape. To promote maximum oral health, we suggest you see us every six months. Small children, adolescents, middle-aged adults, and the elderly alike can benefit from following this regimen. If you have gum disease or fall victim to a dental emergency, you may require additional appointments.
Why wait until you are experiencing constant pain and discomfort to address your oral health? If your mouth is in decent shape, your teeth can thrive in only two visits per calendar year. Make the time for routine trips to the dentist – your smile will thank you!
Your Appointment Awaits!
Dental problems can grow worse in a short amount of time. Stay one step ahead of oral illness and schedule your appointment today! We look forward to getting to know you and helping you maintain confidence in a happy, healthy smile.
If you are ready to improve your dental health, our practice is ready to assist you. Contact our practice for more information about the services we offer. No matter your dental needs – we are on board to help you in any way we can!
CONTACT US
*All photos, videos or images seen on our website, landing pages and social media are published with the consent of our patients. They are not guarantees that your results will be the same or similar, nor are they a guarantee of any particular outcome. Results, risks, potential complications and recovery vary for each individual patient. Our ads and page content are general and do not constitute medical advice. Before commencing your dental treatments, you should seek medical advice from an appropriately qualified health practitioner and seek a second opinion where appropriate. All the offers and prices are subject to availability and subject to change without any notice.

Preventative Dentistry Brunswick, East Brunswick, Brunswick West, Moonee Ponds VIC | (03) 9077 3807