Dentures in Brunswick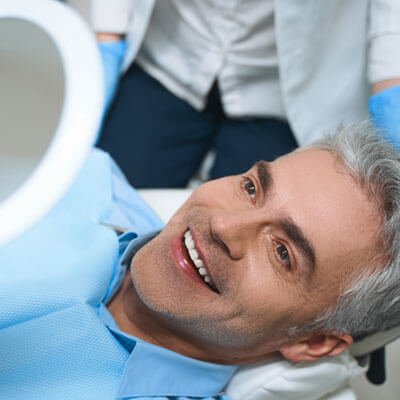 If you are missing several teeth, we have a solution to fill your gaps and give you greater confidence in your smile. Along with general dentistry, Green Apple Dental Clinic provides dentures to those in need. Used to replace missing teeth, dentures have become more advanced than ever before. In this day and age, they are made to fit comfortably and appear naturally.
Dentures come in many different forms. Depending on your lifestyle, you may require a certain type of denture. We are here to get to know your insecurities and help you decide which approach is best for you!
NEW PATIENTS

Which Type of Denture Is Right for You?
Our practice wants you to feel supported by your denture. Ultimately, the type of denture you choose is up to you and your needs. We offer several styles of dentures, including:
Removable Dentures – When most people think "dentures," they think removable dentures. This option is affordable and tends to produce great results. Many patients appreciate the ability to take their dentures out at their leisure. Such flexibility allows for easy denture cleaning and no-denture sleep.
Implant-Supported Dentures – Implant-supported dentures are a more permanent solution to missing teeth. Rather than sitting loosely, they are secured to dental implants. Closely imitating natural teeth, this solution creates additional stability for chewing, laughing, and talking.
Partial Dentures – An affordable approach for patients with only a few lost teeth, partial dentures are attached to the natural teeth by a metal frame. This version of denture is popular among those with several of their natural teeth still intact.
An Adjustment Worth Your Time
No matter the type of denture you choose, the first few weeks of wear might feel awkward, uncomfortable, and even slightly unnatural. Many patients experience newfound difficulty eating and speaking as their cheeks and tongue become accustomed to holding your denture in place. You may also feel as if your tongue does not have enough space to move freely.
Soreness is not uncommon following the placement of dentures. However, if irritation or discomfort become severe, you should contact Green Apple Dental Clinic in a timely manner. Rest assured – the adjustment to your denture will be well worth your time!
Contact Us for Your Custom Dentures!
You deserve to have complete confidence in your smile. Dentures may be the solution you have been looking for to rectify the insecurities that accompany missing teeth. If you are unsure whether or not you are a good candidate for a custom denture, our practice is glad to provide further clarification.
Contact us for more insight into the dentures we offer.
CONTACT US
*All photos, videos or images seen on our website, landing pages and social media are published with the consent of our patients. They are not guarantees that your results will be the same or similar, nor are they a guarantee of any particular outcome. Results, risks, potential complications and recovery vary for each individual patient. Our ads and page content are general and do not constitute medical advice. Before commencing your dental treatments, you should seek medical advice from an appropriately qualified health practitioner and seek a second opinion where appropriate. All the offers and prices are subject to availability and subject to change without any notice.

Dentures Brunswick, East Brunswick, Brunswick West, Moonee Ponds VIC | (03) 9077 3807