Dr Raia Aliwy, Dentist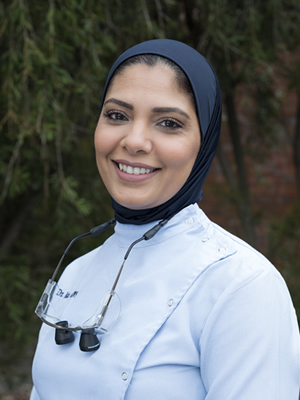 Dentistry itself appeared to Dr Raia Aliwy as she recognised the importance of how a healthy smile makes people feel good about themselves and how such a smile makes others view them. "It is now my mission and passion to help my patients achieve the perfect smile they can feel happy and confident with."
Dr Raia has a special interest in cosmetic dentistry with a passion for helping her patients enhance their natural beauty. Dr Raia's substantial cosmetic dentistry experience includes services such as porcelain / composite veneers, orthodontic treatments and Invisalign. She is also well known for her care of anxious patients and always wishes for them to feel relaxed.
"Ever since I was young I knew I wanted to go into the medical field, as I had spent my whole life growing up surrounded by family and friends who worked in medicine."
Education and Professional Development
Dr Raia Aliwy graduated from Baghdad University in 1999 with a Bachelor of Dentistry and Oral Surgery (BDS). She is a Fellow of The International College of Continuing Dental Education (FICCDE)-2012. She has also taken numerous continuing education courses from highly respected dental organisations:
Australian Academy of Dental-Facial Aesthetics (AADFAc)-2016
Progressive Orthodontics (POSc)-2012
Australian Dental Council (ADCc)-2010
Building Patient Confidence
For Dr Raia Aliwy, it's highly fulfilling to see her patients at Green Apple Dental Clinic feel healthy and know that she is helping them maintain their wellbeing in the long run. "I also enjoy seeing the happiness my patients feel when they are satisfied and confident with their smile."
Enjoying an Active Life in Brunswick
"As a mother of four gorgeous children one of my favourite pastimes is spending quality time with them and my wonderful husband." The family loves to travel together and explore different parts of the world. Dr Raia Aliwy also enjoys volunteering at the food bank, helping to pack food to help those in need. Exercise is also important to her, and she loves to do Pilates at her local gym.
Schedule an Appointment
Contact us today to schedule an appointment with Dr Raia Aliwy!
CONTACT US

Dr Raia Aliwy | (03) 9077 3807