ClearCorrect Invisible Braces in Brunswick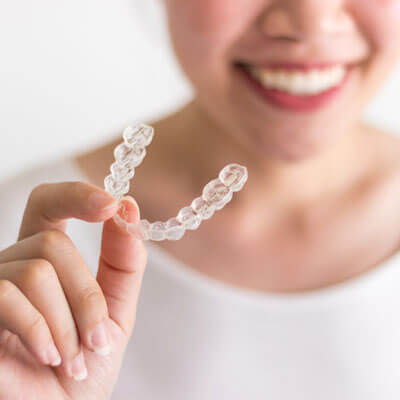 If you wish to achieve a straighter, more beautiful smile without fixed braces, then our translucent braces may be the perfect option for you! At Green Apple Dental Clinic, We use ClearCorrect, one of the market leaders in clear aligners, to help you obtain the smile of your dreams – just without the hassle of fixed brackets or wires.
NEW PATIENTS

What is ClearCorrect?
ClearCorrect works as a series of aligners which have been custom-made to fit over your teeth. They are designed to apply pressure in specific locations, helping to effectively straighten your smile. You simply wear your clear aligners as directed, before changing them out with a new set of aligners every two weeks.
ClearCorrect is great for addressing dental issues such as:
Mild to moderate tooth misalignment
Gaps between teeth
Overbites and underbites
Overcrowded teeth
Thanks to our ability to supply patients with several sets of aligners at once, patients are able to move forward with their ClearCorrect treatment on their own. There's no need for weekly or monthly dentist visits; simply schedule a follow-up consultation every 6 – 8 weeks to pick up your new set of aligners and one of our friendly dentists will ensure the process is moving along perfectly.
Frequently Asked Questions
How Much Does ClearCorrect Cost?
Many patients are surprised by how affordable ClearCorrect is. The total cost of treatment will depend on a variety of factors, such as the extent of tooth movement required. At your initial consultation, we will be able to provide you with a more detailed estimate of this price.
Can I Eat While Wearing ClearCorrect?
You will need to remove your ClearCorrect aligners during each meal. Chewing with your aligners in place can cause them to warp or crack. While you are able to drink wearing ClearCorrect, we recommend you rinse your mouth and aligners out thoroughly afterward.
How Long Should I Wear My ClearCorrect Aligners Each Day?
Your aligners should be in place at least 22 hours per day. This allows you enough time to only remove them whilst eating, brushing, and flossing!
Your Best Smile Starts Here
Are you interested in achieving a straighter, more beautiful smile with ClearCorrect? Contact us today to find out more!
CONTACT US
*All photos, videos or images seen on our website, landing pages and social media are published with the consent of our patients. They are not guarantees that your results will be the same or similar, nor are they a guarantee of any particular outcome. Results, risks, potential complications and recovery vary for each individual patient. Our ads and page content are general and do not constitute medical advice. Before commencing your dental treatments, you should seek medical advice from an appropriately qualified health practitioner and seek a second opinion where appropriate. All the offers and prices are subject to availability and subject to change without any notice.

ClearCorrect Invisible Braces Brunswick, East Brunswick, Brunswick West, Moonee Ponds VIC | (03) 9077 3807