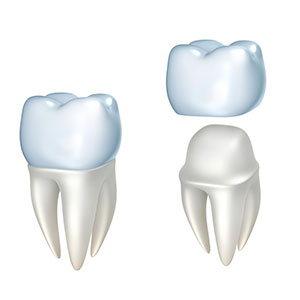 Crowns and Bridges in Brunswick
Restore Your Beautiful Smile
Would you like to have your smile rebuilt as a stronger and more stunning version? It's time to stop letting missing teeth, discomfort, and pain hold you back any longer. Our team are very experienced at equipping your mouth with crowns and bridges, helping you to love your smile once again.
At Green Apple Dental Clinic, we also create all of our restorations in a local, trusted lab, ensuring that you're left with the highest-quality results that will last long-term.
NEW PATIENTS

Are You a Candidate for a Bridge?
Dental bridges are a strong and long-term solution to fixing a gap within a patient's mouth. They feature two or more crowns to be placed on the teeth either side of the gap, along with a false tooth to fit snugly into this empty space. If fitted with a bridge, our professional dentists will also educate you in how to correctly care for your bridge, as accurate hygiene practices will allow it to last for many more years to come.
Want to Learn More?
If you're interested in finding out more about how you can benefit from our bridge and crown treatment, please contact us today. Our friendly team is happy to answer any questions you may have!
CONTACT US

*All photos, videos or images seen on our website, landing pages and social media are published with the consent of our patients. They are not guarantees that your results will be the same or similar, nor are they a guarantee of any particular outcome. Results, risks, potential complications and recovery vary for each individual patient. Our ads and page content are general and do not constitute medical advice. Before commencing your dental treatments, you should seek medical advice from an appropriately qualified health practitioner and seek a second opinion where appropriate. All the offers and prices are subject to availability and subject to change without any notice.

Crowns and Bridges Brunswick, East Brunswick, Brunswick West, Moonee Ponds VIC | (03) 9077 3807