TMJ and Bruxism Care in Brunswick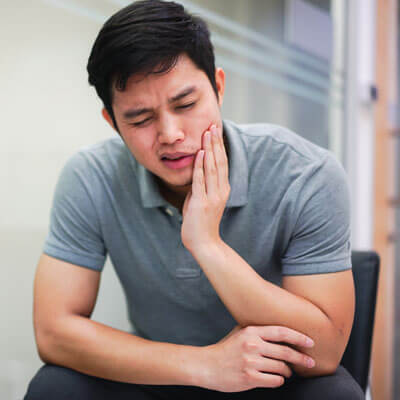 Do you have a bad habit of clenching your teeth together, creating tension or soreness in your jaw? Bruxism, defined as the involuntary, habitual grinding of the teeth, tends to happen while sleeping. At Green Apple Dental Clinic, we want to help you understand why this occurs and help you arrive at a solution to prevent it from affecting the health of your jaw.
The better you understand what you are going through, the easier it will be for us to help provide you the relief you deserve. Learn more about bruxism and TMJ pain today!
NEW PATIENTS

The Diagnosis
When teeth grinding is only happening during sleep, it can be extremely frustrating to the patient. Because they are unaware of the cause of their discomfort, the problem is out of their control. Bruxism can be caused by stress, as stress can negatively affect the body in a variety of ways.
If you are suffering from habitual teeth grinding that is causing TMJ pain, we are here to tell you that you are one in six people who suffer from this condition. Women, especially, are subject to bruxism. Do not wait to seek care if you think you may be experiencing unconscious bruxism – we want to help you as soon as we can!
Common Consequences of Neglect
When left alone for a great length of time, bruxism can subject patients to:
TMJ disorder
Jaw pain
Migraine headaches
Flat, chipped, or worn teeth
Broken dental work
Muscle tension
Limited range of motion in the jaw
Difficulty eating
Ringing in the ears
None of the problems listed above are desirable. Be sure to watch for any symptoms that may need immediate attention. The best thing you can do for your health is to remain aware. When you are at your routine cleanings, do not hesitate to communicate any level of pain or discomfort you may be experiencing.
Your Options for Care
Bruxism and TMJ pain are caused by increased amounts of stress. There are many ways to prevent bruxism, including keeping relaxation to decrease stress and maintaining healthy habits. If you are diagnosed with bruxism that is causing TMJ complications, there are many different forms of care available to you, including:
Bite Splints and Deprogrammers – Using bite splints adjusts the way that your jaw rests. Ultimately, it prevents muscle tension and further injury from occurring.
Neuromuscular Care –  Neuromuscular care affects the way that your teeth fit together. It allows bite to feel as comfortable as possible. If your resting bite to feels better, you are less likely to have the urge to clench your teeth together.
Muscle Relaxants – Muscle relaxants are injectable medications that force the muscles causing bruxism to relax. Such relaxation decreases the risk of clenching.
Physical Therapy –  Similar to how it helps other parts of your body, physical therapy can be beneficial when it comes to rectifying bruxism. It feels similar to a facial massage, but specifically works to correct grinding of the teeth.
Sleep Apnoea Care – Bruxism may be a sign of a sleeping disorder, such as sleep apnoea. If you resolve your bruxism and TMJ pain, you might also relieve yourself of the effects of sleep apnoea.
Contact Us to Address Your TMJ Pain!
Are you ready to resolve your bruxism and TMJ pain? We look forward to hearing from you and helping you get started! Our practice is always open to addressing your questions and concerns. Contact us for more information about what we might have to offer you.
CONTACT US
*All photos, videos or images seen on our website, landing pages and social media are published with the consent of our patients. They are not guarantees that your results will be the same or similar, nor are they a guarantee of any particular outcome. Results, risks, potential complications and recovery vary for each individual patient. Our ads and page content are general and do not constitute medical advice. Before commencing your dental treatments, you should seek medical advice from an appropriately qualified health practitioner and seek a second opinion where appropriate. All the offers and prices are subject to availability and subject to change without any notice.



TMJ and Bruxism Care Brunswick, East Brunswick, Brunswick West, Moonee Ponds VIC | (03) 9077 3807