Green Apple Dental Clinic Services
Your All-in-one Brunswick Dental Care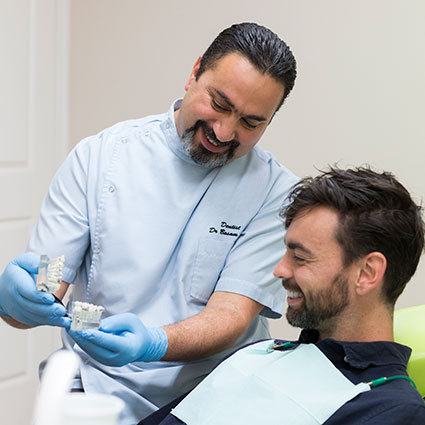 At Green Apple Dental Clinic, our professional and welcoming team pride themselves on offering high-quality, complete dental care that you can trust.
We're the perfect practice for Brunswick families and professionals, as our wide range of dental treatments mean we're your all-in-one dental destination.
Our dentists at Green Apple Dental Clinic represent a huge array of services, so whether you require general, cosmetic, or restorative dentistry, you'll be looked after by a dentist who is very experienced in that field.
NEW PATIENTS

We Work with Trusted, Local Labs
We promise to never entrust our products and materials to cheaper overseas labs. Instead, we choose to use the highly-reputable and excellent services of a dental lab right here in the Melbourne CBD. Not only does this allow us to receive our products in a shorter time frame, but it also means the quality of each job is far superior than what faraway labs could produce.
Services at Green Apple Dental Clinic
We provide a wide variety of dental treatments to help you and your family achieve optimal oral health. These include:
Family Dentistry
Plan Your Visit to Green Apple Dental Clinic Today!
Book a consultation with our friendly team today to discuss which dental treatments are best for you. Our dentists are more than happy to answer any questions you may have, plus they always ensure they're upfront about what a treatment involves, along with its associated costs.
CONTACT US


Green Apple Dental Clinic Services | (03) 9077 3807