Emergency Dentistry
at Green Apple Dental Clinic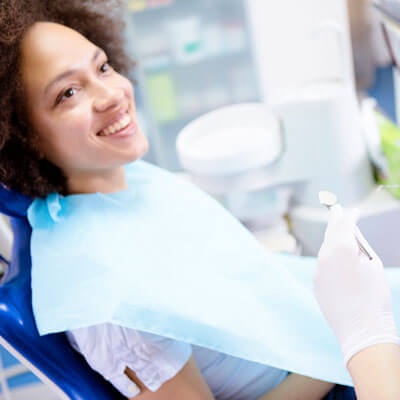 Dental emergencies can be unpredictable and painful. Here at Green Apple Dental Clinic, we understand the unbearable nature of throbbing toothaches. There is no reason to suffer longer than you already have! Our practice gladly offers immediate attention to those experiencing urgent dental conditions.
If you are looking for a family dentist to take on your dental emergency – we are here to help! Learn more about the variety of dental emergencies our practice welcomes.
Your Emergency Care
Unfortunately, dental emergencies are not uncommon. Many people find their daily routines interrupted by unexpected oral problems. From broken or chipped teeth to swelling or bleeding of the gums, they require prompt care.
Of the dental emergencies we see, Green Apple Dental Clinic most commonly attends to the following:
Knocked-Out Teeth – Knocked-out teeth, referred to by dental professionals as avulsed teeth, should be cared for as quickly as possible. It is often possible for your lost tooth to be reinserted. However, this can only happen shortly after the damage occurs. For optimal outcome, it is best to be seen within one hour of the loss.
Broken or Chipped Teeth – Fragments of broken or chipped teeth can often be bonded back into place. Be sure to locate the missing piece and submerge it in a sealed container of milk or saline. For best results, you should be cared for no more than two hours post-damage.
Dental Abscesses – Dental abscesses, which appear as swollen areas along the gums, tend to cause severe toothaches. While these infections can be temporarily relieved by antibiotics, root canals are often necessary to fully rectify the problem at hand.
Denture Troubles – If your denture becomes damaged, it is best to have it repaired by a skilled professional. At-home repairs may result in permanent damage to the appliance. In favorable cases, dentures can be restored. In less-ideal situations, however, they might need to be replaced.
Crown or Filling Damage – Crowns and fillings can be easily damaged after wear. It is common for them to loosen or dislodge after eating certain hard-to-chew foods. If this happens to you, it is recommended to chew on the opposite side of your mouth to prevent further discomfort. While crowns can often be reused, fillings must be redone.
Swelling or Bleeding – Swelling or bleeding of the gums, lips, and cheeks can cause significant pain. Injury to the soft tissues in and around your mouth may benefit from a cold compress prior to attention from the dentist.
Schedule Your Same-Day Appointment!
Are you suffering from one or more of the above complications? Please do not hesitate to contact our practice for a same-day dental appointment. We will do our best to accommodate your needs!

Emergency Dentistry Brunswick VIC | (03) 9077 3807