Root Canal Treatment in Brunswick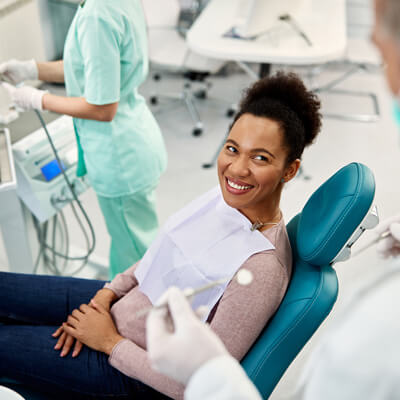 At Green Apple Dental Clinic, it's our priority to make sure you have a comfortable and positive experience from the moment you step foot inside of our practice. That's why we offer a wide range of dental treatments for you and your family, and are always upfront about what a service entails, along with its associated costs.
Additionally, we treat each patient as an individual, suggesting treatment on a case-by-case basis. We never want a patient's tooth to be extracted unnecessarily, which is why we offer root canal therapy when required.
NEW PATIENTS

The Importance of Root Canal Treatment
When a tooth is experiencing decay, the decay will begin in the crown of the tooth before it begins to spread. Without immediate treatment, the decay will advance deeper towards the nerve and blood supply of the tooth. Because of this, the area will then be open to bacteria, resulting in inflammation and pain.
As the tooth is left further untreated, it begins to die out, becoming susceptible to infection caused by active bacteria. This is how dental abscesses occur, and in some cases, the patient may experience facial swelling. If these symptoms are further ignored, teeth discolouration will occur, with the infection then spreading to surrounding facial features. This alarming stage can result in a life-threatening condition that requires immediate hospitalisation.
As you can see, it's vital to address tooth decay before it makes its way deeper into the nerve. By initiating root canal treatment during these earlier stages, it allows us to prevent the infection spreading further.
Comfortable Care That Puts You at Ease
We understand that visiting the dentist can make some patients anxious or uncomfortable, which is why we go above and beyond to ensure you have a stress-free experience that's as painless as possible. Green Apple Dental Clinic offers a number of sedation options to help you feel at ease and will only commence treatment once you feel comfortable enough for us to do so.
If you wish to feel as though you're asleep for the entire procedure, Dr Jeff can administer IV sedation. Once the treatment has been completed, you will wake from your sleep-like state feeling as though no time has passed at all.
Additionally, we offer inhalation sedation (known as Penethrox) for those who would prefer to be in a conscious, yet highly relaxed state during treatment. This method of sedation is very similar to laughing gas, allowing the patient to let go of any anxious feelings.
Get in Touch Today
If you're experiencing pain or discomfort and are concerned about requiring root canal therapy, please schedule an appointment with Green Apple Dental Clinic today. We can see you as an emergency case as quickly as possible!
Prevention is the best cure, so even if your symptoms are mild, it's important we treat your tooth decay before it becomes a more complex issue.
CONTACT US

Root Canal Treatment Brunswick, East Brunswick, Brunswick West, Moonee Ponds VIC | (03) 9077 3807