Facial Injectables in Brunswick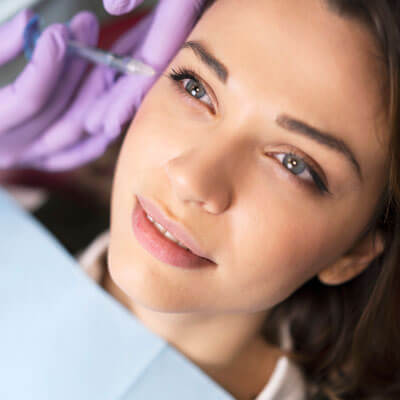 Visiting Green Apple Dental Clinic is all about reviving confidence in your smile and restoring oral health—and now, you can also rejuvenate your appearance with dermal fillers and neuromodulators designed to restore lost volume and lessen the appearance of wrinkles.
Our dentists have extensive training and experience, so they can provide you with incredible results through advanced non-surgical cosmetic enhancement using the latest anti-wrinkle treatments. We invite you to learn more at your next dental visit.
NEW PATIENTS

What Are Fillers?
Dento-facial aesthetic injections, also known as dermal fillers, are designed to be injected into areas of lost facial volume to restore a youthful look. They may also encourage the growth of new collagen, and many contain hyaluronic acid, which is a naturally occurring substance in your own body. Dermal fillers can last anywhere between six months to over a year, depending on the area injected and the type of filler used.
What Are Neuromodulators?
Neuromodulators are also injected into the face, though they work differently than fillers. This anti-wrinkle injection temporarily freezes your facial muscles, making it difficult for wrinkles to form and smooth the appearance of fine lines.
Anti-wrinkle injections help the muscles relax, minimising the forces that lead to creases and deep wrinkles, while dermal fillers help improve volume and plumpness in the tissues that appear thin and crinkled, restoring a more youthful appearance.
Since muscle tension results in skin deterioration over time, it can gradually present itself as fine lines and wrinkles across your face. Receiving anti-wrinkle injections may help smooth your skin while improving skin health.
Neuromodulators offer results that can be seen typically just a few days after injection, and may last for up to six months.
Learn More Today
Interested in learning more about dermal fillers or neuromodulators? We'd love to speak with you. Contact us today to book an appointment, or simply ask at your next visit with us.
CONTACT US


Facial Injectables Brunswick, East Brunswick, Brunswick West, Moonee Ponds VIC | (03) 9077 3807